My favorite thing about the N R GEE Amplifier Necklaces is that they give you the ability to Create a Powerful Synergy of Crystals & Essential Oils by Combining them Together in One Amazing Healing Tool!
With a Crystal Point and a Roller Bottle All in One, Add a few Herkimer Diamonds (or other mini crystals you can get here at Visions in the Woods) your favorite Essential Oil and You can Create so much Magic!

As one of the most versatile and beneficial energy tools a person can own, is a crystal point. It's the perfect ally for when you need to focus and direct energy into your intentions. Not only will it make sure that your energy won't go to waste, a crystal point, used with intention, will also infuse your space and auric field with the energy you want to surround yourself with.
The healing properties of a point depends on the type of crystal, but every crystal point has one thing in common—they are magnificent directors of powerful energy that are super easy to use.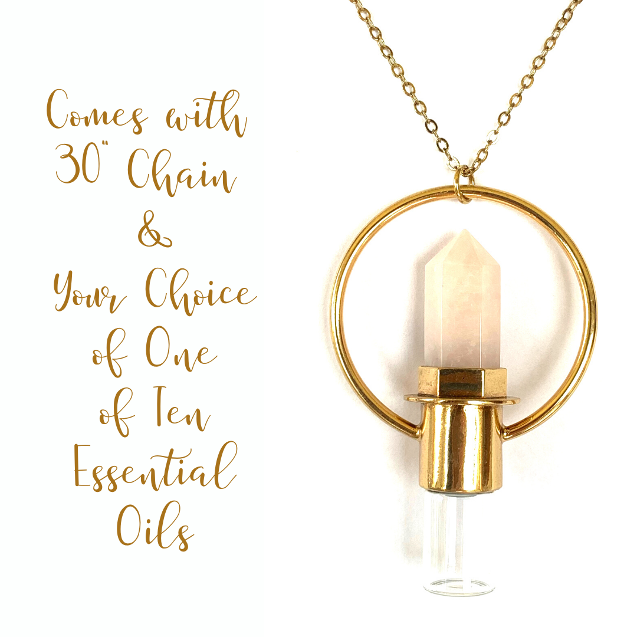 The crystals we currently have in stock are Rose Quartz and Labradorite as seen in these photos. Labradorite is a crystal of Magic, Protection & Self-Mastery. Rose Quartz is the Crystal of the Heart & All Things Love, Especially Self-Love!
With the Amplifier Necklace, You Get All the Energy from the Crystal Point as well as the Ability to Customize it to Utilize the Synergy of Combining Crystals with Essential Oils, Making it the Exact Powerhouse of Energy You Need, simply by what you choose to add to the bottle!
Herkimer Diamonds are the Perfect addition to your Bottle. They are Programmable as well as Amplifiers of Energy making everything they are in contact with even more powerful! I also have many other mini crystals that you can add to the bottle to customize your choice!
An Inspirational Tips Page is Provided with each Necklace on a Variety of Ways to Use Crystal Points and the N R GEE Amplifying Necklace. Deborah will also demonstrate for you how to use the energy techniques.
There are many different ways to use your crystal point. You'll connect more with some crystal rituals than you will with others. Trust your intuition and use your crystal in the way that feels right to you.
Click on the links to learn about their properties.
We are open by appointment throughout the year,
contact Deborah
to make an appointment that works for you to come by and check out our N R GEE Amplifiers and many other treasures we have waiting for you to discover, at Visions in the Wood!