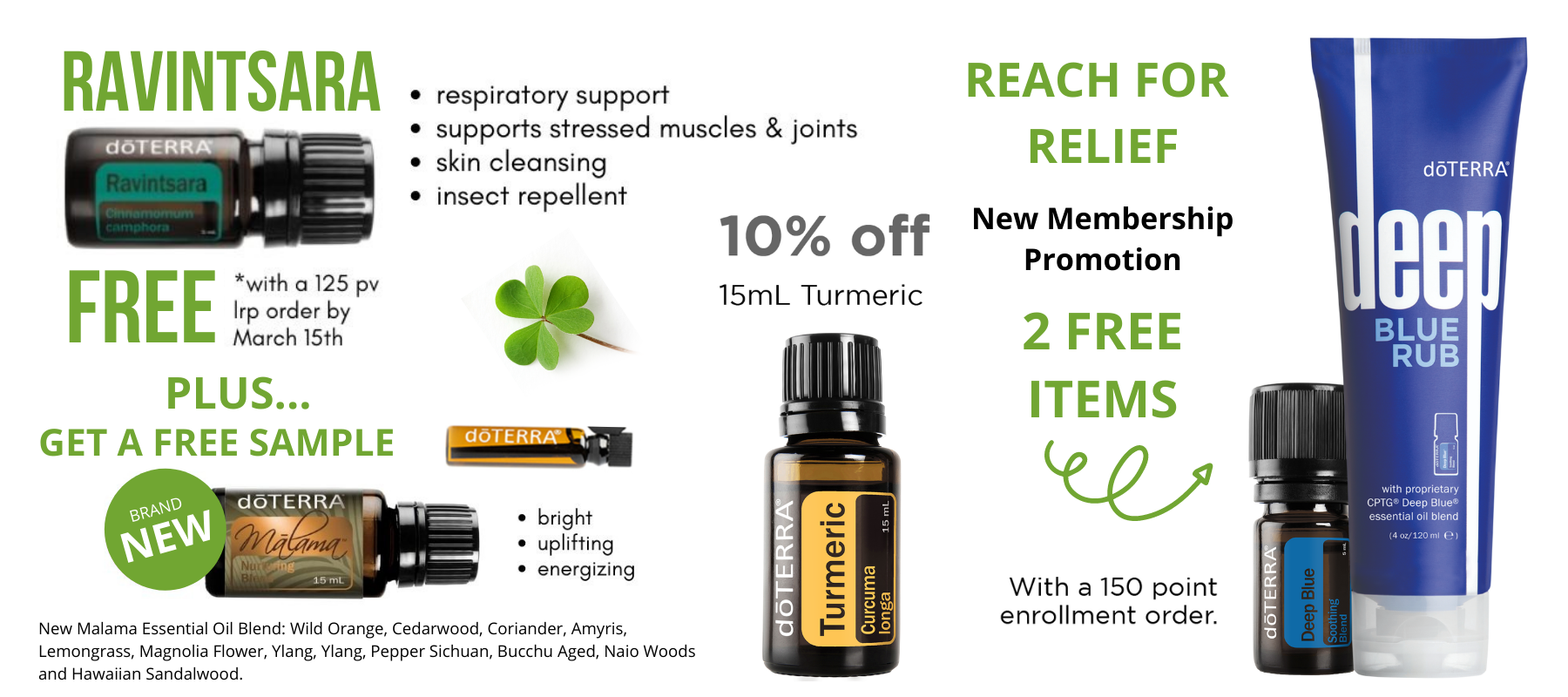 Excited that Spring is Right Around the Corner?

Check Out doTERRA's Promotions

& Tons of Info About What Makes These Oils

So Worth Learning More About!
FREE Oil of the Month...
Raventsara
with 125 PV+ Loyalty Rewards Order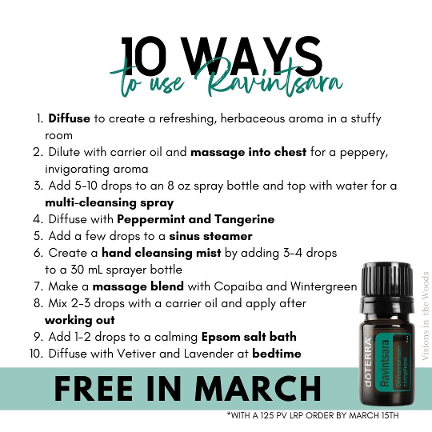 On the emotional/spiritual plane Ravintsara oil soothes anxiety, overwhelm, stress and third charka imbalance (solar plexus).
On the physical plane it is known for it antibacterial, antiviral, analgesic and anti-inflammatory properties for respiratory conditions and infection. It is also been known for it's immune-stimulant capacity due to its antimicrobial, anti-inflammatory and tonic actions.
Ravintsara is great for reducing pain and headaches.
Ravintsara oil has also been used for flu, muscular pains and aches; stress, depression, calms the nerves, promotes sleep, and supporting the immune system.
Ravintsara is a Limited Time Offer! It is not available year round. Be sure to get yours!

Want more info about Ravintsara?

Click on the PDF Link Below. Print & File in Your Essential Oils Binder.

FREE BONUS Malama Sample
with Your 125 PV+ Loyalty Rewards Order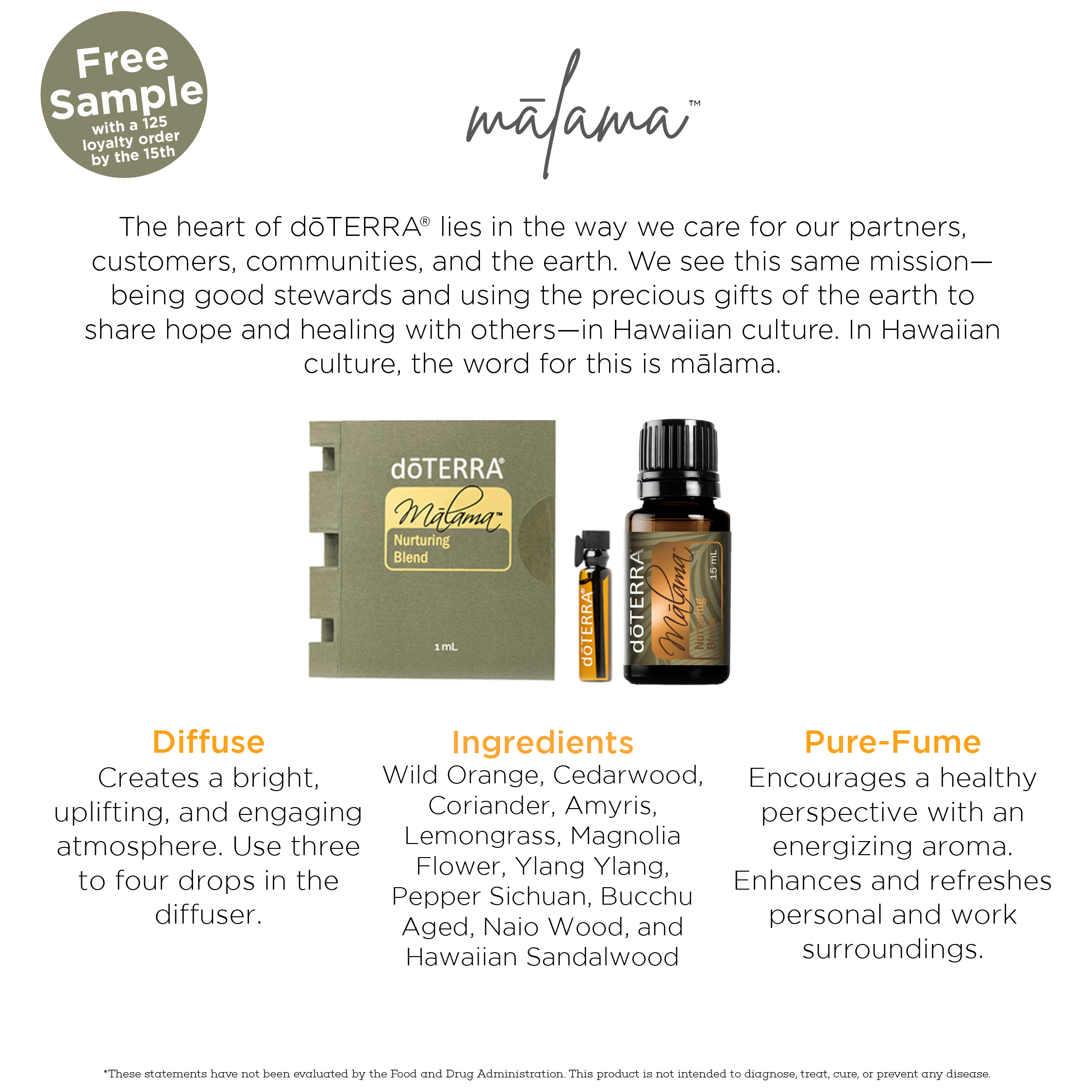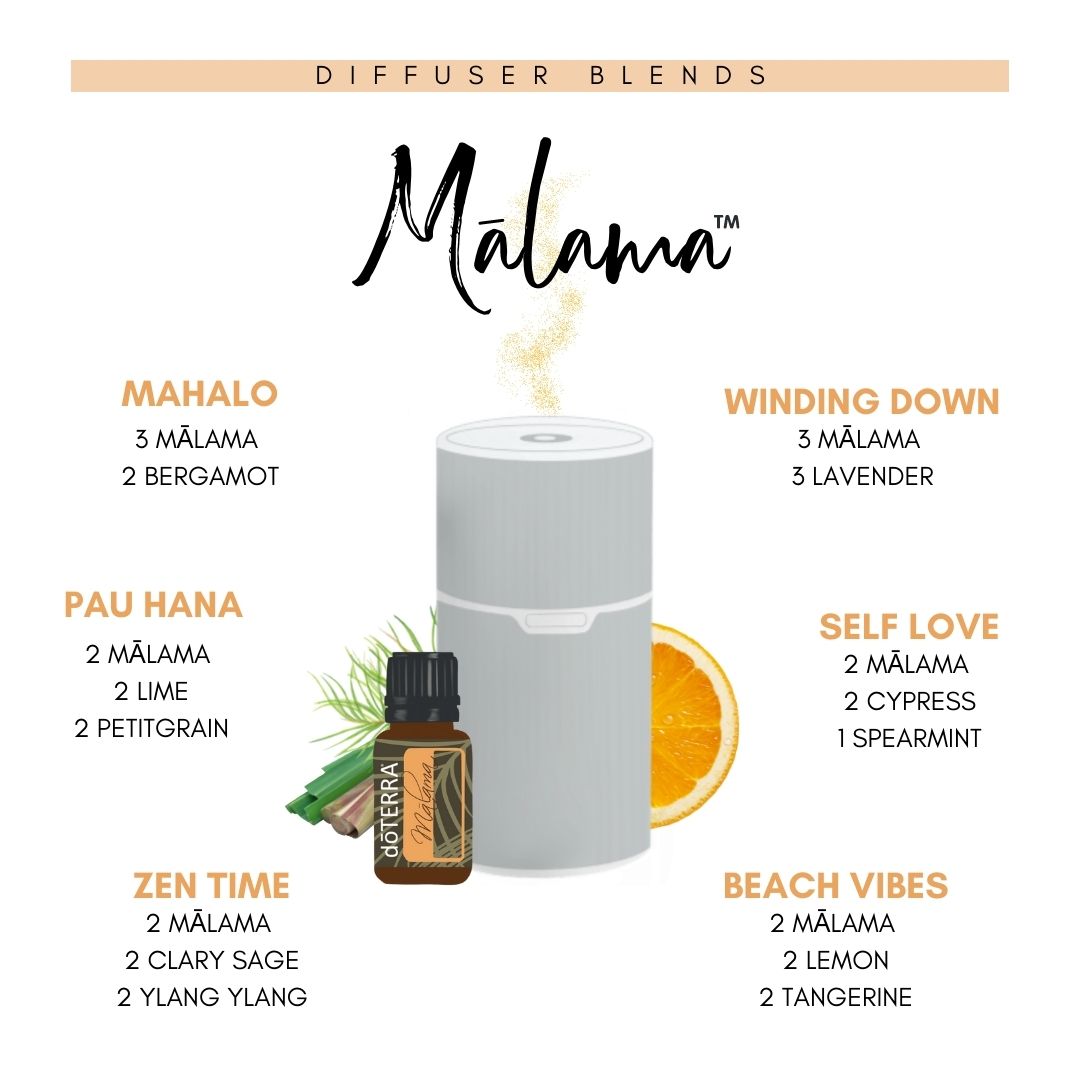 Like the breathtaking beauty and vibrant culture of the Hawaiian Islands, Malama Nurturing Blend is an effervescent combination of tropical citrus, enchanting floral, and centering wood aromas. Delicious Wild Orange, warm Cedarwood, and soft Amyris are combined with fresh Coriander, zesty Lemongrass, minty Bucchu, and spicy Sichuan Pepper.

Plus, Malama contains sweet Magnolia, floral Cananga, and resonant 'Iliahi (Sandalwood) and Naio Wood. As all these essential oils come together, they create a vivacious, rich aroma.
Anticipating Arrival to be Available for Purchase in April!

Featured Essential Oil of the Month

Turmeric 10% OFF

while quantities last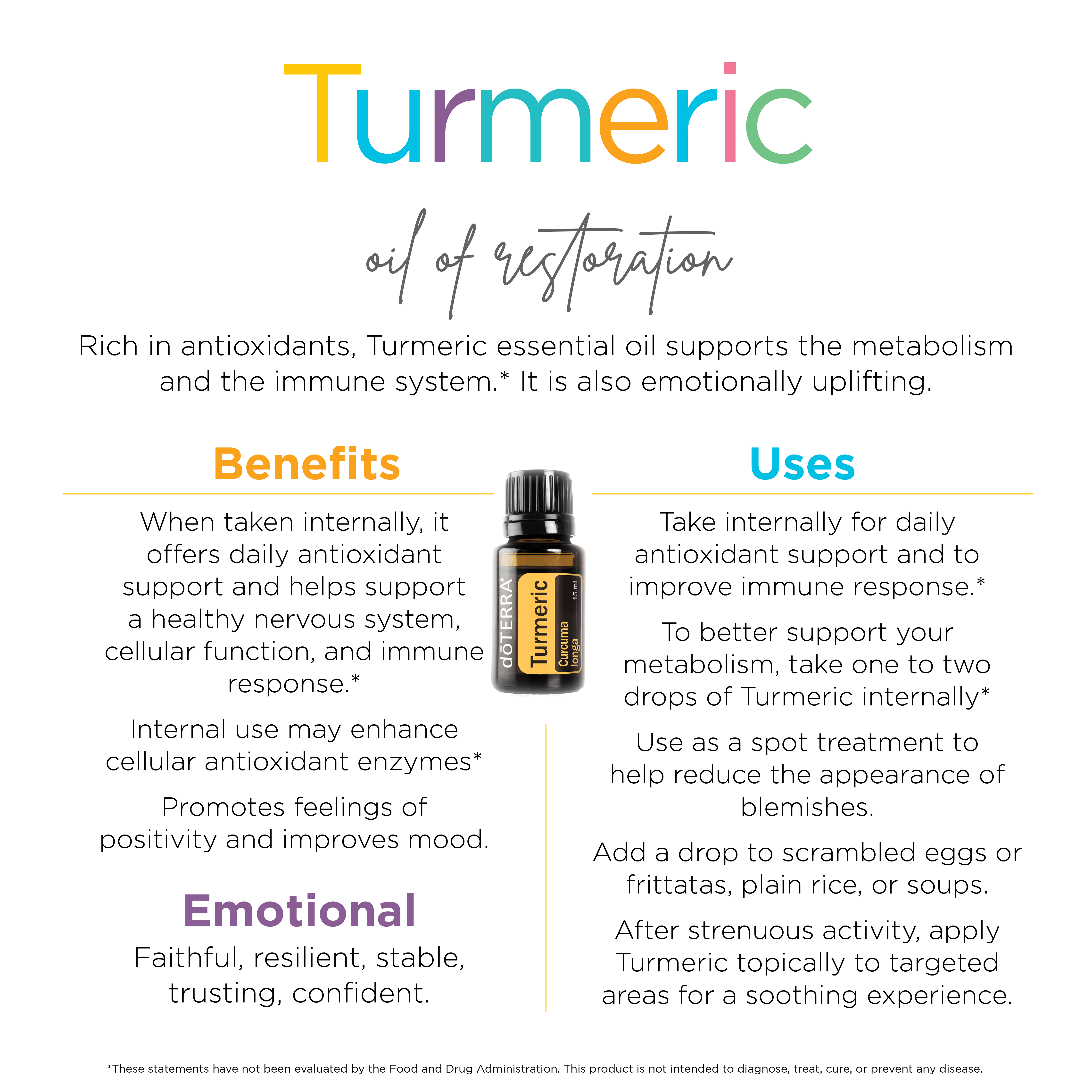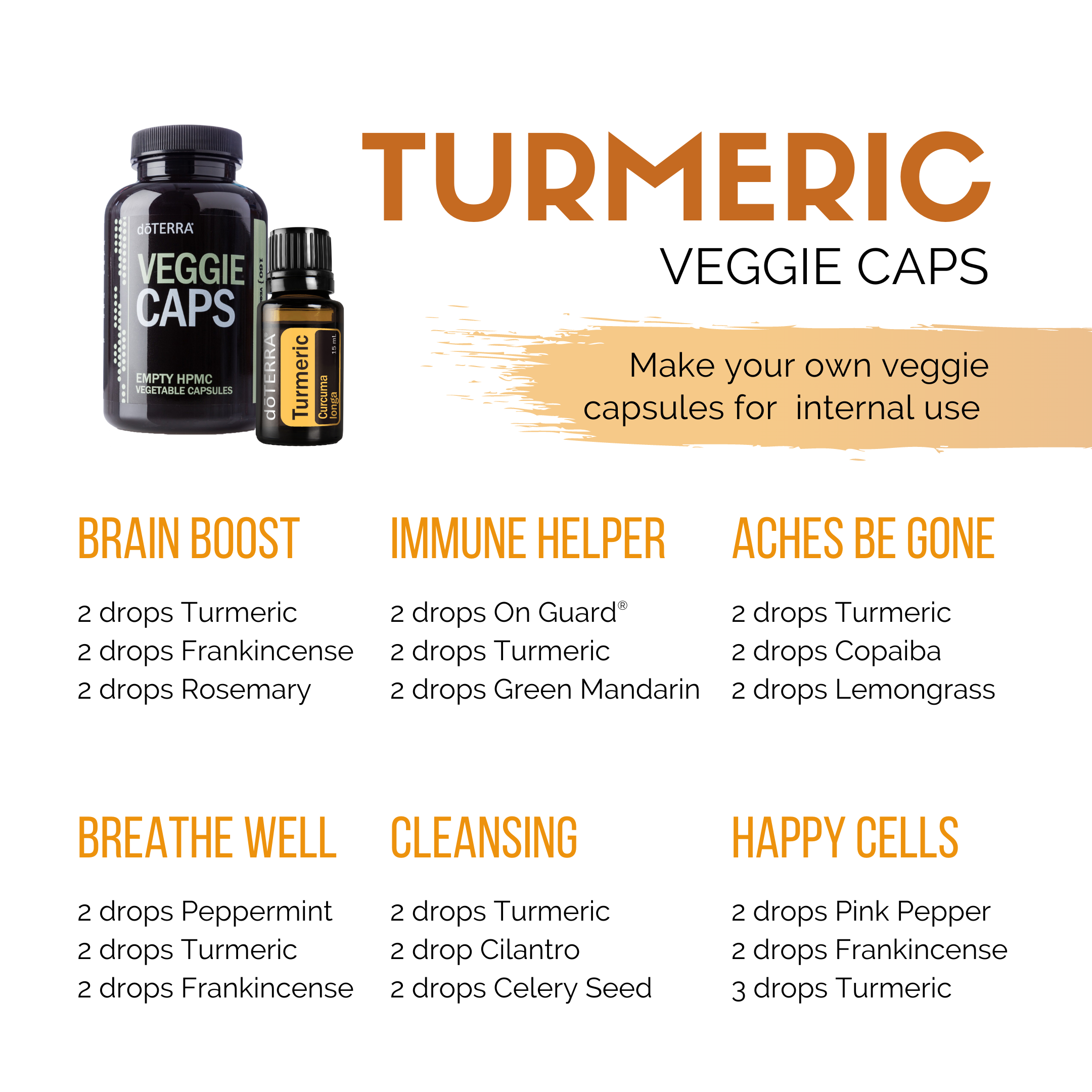 Much like other essential oils derived from roots (such as Ginger oil, Vetiver oil, and Spikenard oil), Turmeric oil bears an earthy and grounding aroma.

However, Turmeric essential oil uniquely contains the chemical components Turmerone and ar-Turmerone, making it particularly effective as a food flavoring and skin cleanser. Ultimately, Turmeric essential oil is one of the staples of a daily wellness routine.
Want more info about Malama?

Click on the PDF Link Below. Print & File in Your Essential Oils Binder.
New Membership Promotion

FREE Deep Blue Oil & Rub

with a New Membership Purchase of 150PV or more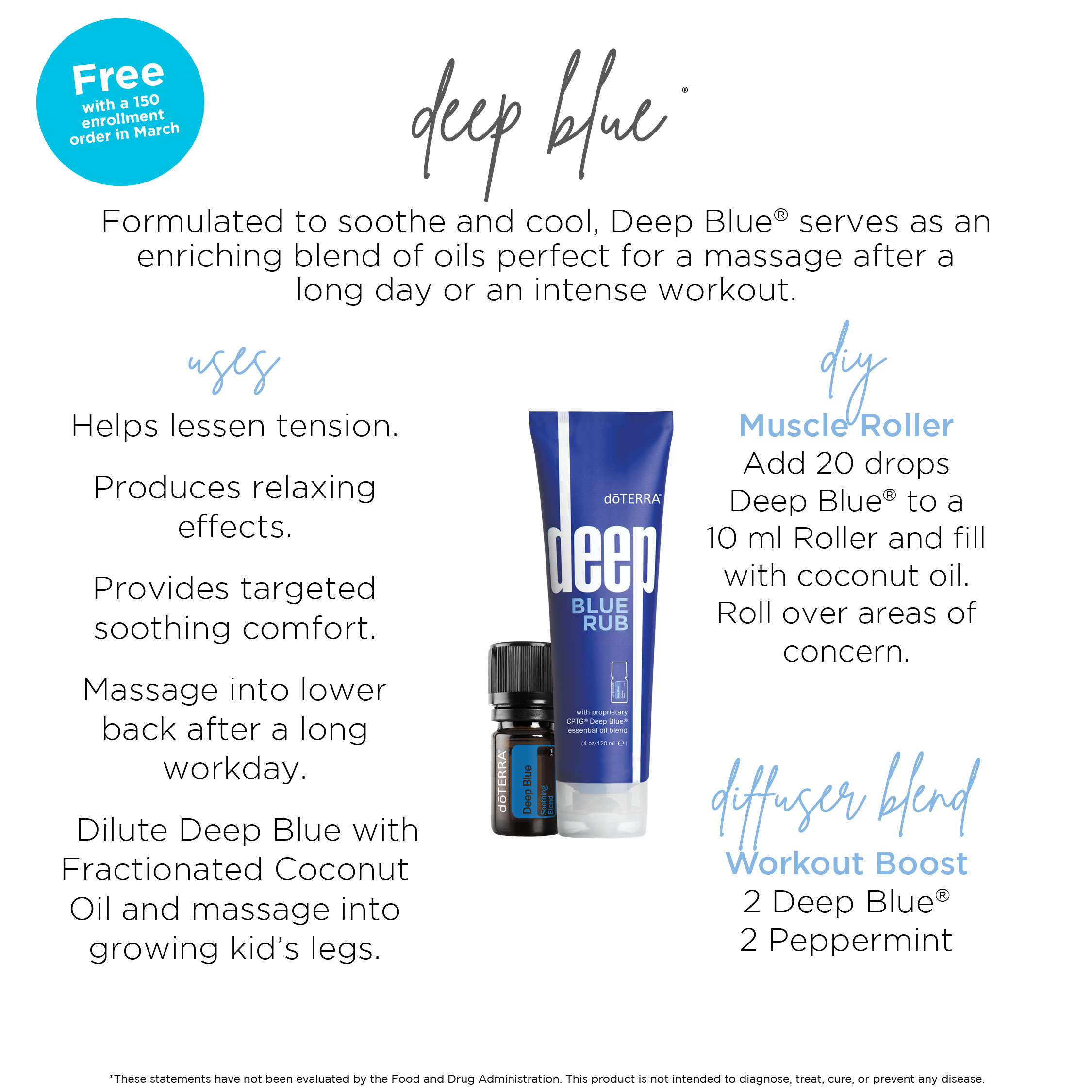 Ask Me for Details
on how You Can Get

These FREE!

Stay Tuned for More Great Info & Promotions

Coming this Month!