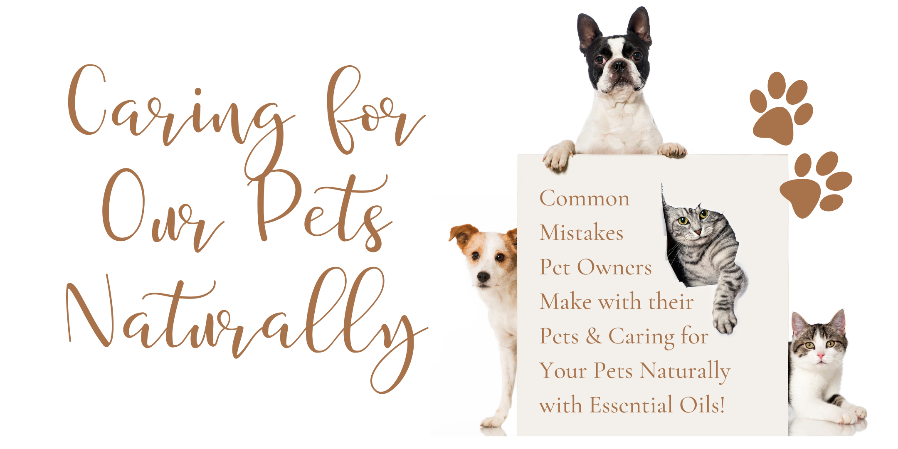 When it Comes to Caring for Our Pets, there are So Many
Things that we Can Do to Support Their Health & Well-Being!
So much so, that when I started thinking about what I want to

share with you, there was just too much info for just one class,

so I decided to create a two part Class/Workshop.
I've Learned a Great Deal Through My Experiences Growing Up with Pets and Classes I have Taken from a World Renowned Veterinarian who uses Essential Oils in her Practice. I am not expert, but love to share what I have learned.

I love animals and I can't remember a time growing up where there weren't animals of some kind in Our Lives. Dogs, cats, gerbils, guinea pigs, horses, cows and even a spider monkey for a short while.

Although we don't currently have pets, we are surrounded by wildlife that are part of our forest family. My desire to share and learn continues to grow, as I know there will be another beautiful fur baby or two in my life down the road.
So if you love dogs and cats too, and would like to learn more about common mistakes pet owners make and how to care for your pets naturally, I have all kinds of info, tips and recipes to share with you, as well as an opportunity to create a few products for them.
Read About the Class (Part One) I am offering for FREE, and the DIY Workshop
(Part Two) that is a great price with incredible value!...

OUR PETS - PART ONE (Zoom Class)
Common Mistakes Pet Owners Make with their Pets & the

Top 10 Essential Oils to Use When Caring for them.
This is an opportunity to learn some of the best tips to care for you pets and avoid making mistakes that could effect your pets health & well-being and costly trips to the Vet.


FREE for Visions Members. $10 for non-members
(check off the box below under Visions in the Woods Membership)

OUR PETS - PART TWO (Zoom Workshop)
Caring for Your Pets Safely & Naturally with Essential Oils.

In this DIY & Recipes Workshop, We Will Create Products and Share Recipes You can Use to Help Your Pets... Stay Calm, Soothe Achy Muscles & Joints, Upset Belly Support and how to help them smell clean and fresh naturally between baths or Grooming.

We will be Making 4 Items for Cats & Dogs: ($60 Value)

- Calming Body & Bed Mist

- Roller Bottle for Muscles & Joints
- Tummy Roller Bottle for Digestion & Travel
- Choose from the Calming Pet Parent Roller Bottle. Calm Parents = Happy Critters! or
Litter Box Powder... I provide the oils you supply the baking soda and Epsom salts.

Plus tons of Diffuser Recipes and Guidance About Safety for Your Pets. See below for Cost of Workshop.Arrangements will be made to Get Supply Kits to You once you register.
Register for the Class & Workshop Below:
Your Registration is complete once this form is submitted and payment by etransfer has been sent to Deborah at
[email protected]
, where applicable. A confirmation and class/workshop details will be sent in a separate email.