The Beauty of Sterling Silver Jewelry
I Love Sterling Silver Jewelry! It sparkles with beautiful luster and shine, add an incredible stone to the mix, what's not to Love, right?

Well, I didn't always feel that way. Like many of you, I am sure, I used to have a handful of treasures that I thought was a complete lost cause, so I thought that's it I'm not buying anything Sterling Silver ever again! At least until I discovered easy ways to care for what I had and avoid tarnishing and or cleaning new pieces I had to have!


Just like anything in life, until we learn or have a better understanding about something we may not have an appreciation for it. Caring for Sterling Silver is one of those things for many people. That is why I believe a little knowledge and the right products for caring for Sterling Silver can be very empowering and hopefully for those that are not big fans...I can turn you into believers too!



Nine Tips for Caring for Your Sterling Silver:

An ounce of prevention is worth a pound of cure! Taking a few moments and following these tips will definitely keep or put the sparkle back in your beautiful silver treasures.

1. After wearing always give it a wipe down with a dry cloth or better yet with one of our jewelry
wipes (I'll talk more about that in a minute)

2. Always store your sterling silver jewelry in acid free plastic bags. Squeeze as much air out as
possible. Each piece should be stored separately to avoid getting scratched by each other.

3. Wear your treasures often! The oils on your skin help to clean the silver and keep it looking shiny.

4. Avoid contact with household cleaners, rubber, chlorinated water and any substances containing
sulfur. Also avoid contact with perfume, hair products, lotions etc. Use these items before wearing
your jewelry and avoid direct contact.

5. Direct Sunlight also tarnishes your jewelry. Take off your jewelry when swimming or
sunbathing.

6. If you live in an area where humidity fluctuates, you can add activated charcoal, silica gel or
chalk to your storage area to help to manage the humidity and further minimize your silver from
tarnishing.

7. Only purchase .925 Sterling Silver. It is an industry standard that is the most durable and
tarnishes the least. A higher silver content may mean slightly less tarnishing, but it also means you
are getting a softer metal, prone to more easily being bent or damaged. Less silver means more prone
to oxidizing due to the use of additional metals.

8. Polishing Tarnished Silver. It is important to know that not all cleaners work for all sterling
silver jewelry. There are two important things to consider. First, if your piece has natural or even
synthetic stones, some cleaners will damage your stones. Second how oxidized is your piece?

9. Dry Soft Cloth. When using anything to dry or wipe off your silver be sure it is super soft and lint
free. Also...Never, Never, Never use paper towels on your silver! Remember paper towel is made of
tiny wood fibers, and they will scratch your silver!


Products I Use, One I Sell...

I have tried so many cleaning products for Silver and I am finally extremely happy with these two.



Polishing/Cleaning Jewelry
with Stones

I only use the
Jewelry Wipes
I sell by
Connoisseurs
on all jewelry with stones.
These wipes have blown every single cleaning cloth I have every tried right out of the water!
They are amazing and take very little effort. Only if I am really desperate or have a very oxidized piece do I turn to my second go to cleaner.
But hey, it happens you just have to be super careful with the stones.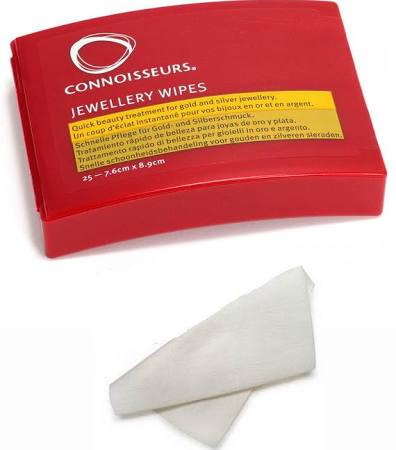 Polishing/Cleaning Sterling Silver without Stones



For silver chains or solid sterling silver pendants or earrings without stones this is by far my favorite product! It's fast, easy and minimal mess and smell!

And you can find this everywhere! A very good friend of mine introduced me to it and found it at Homesense.

As I mentioned if will use this on some of my pieces if I am desperate, but also if there are hard to get at spots that have oxidized.

Using a tooth brush and masking off the stone is how I approach the piece. If you decide to use this on your stone pieces, be very, very careful. It could damage your stones.

For chains and other silver you may have...this product is amazing! I am sure there are others out there I haven't tried that work well. But these are the two I know and stand behind!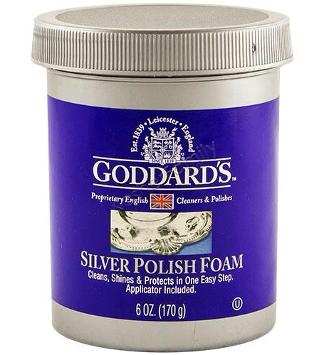 Why Does Sterling Silver Tarnish?

It's a simple chemical reaction.

Each person's body has different effects on sterling silver. We all have varying levels of acidity being released from our bodies and silver reacts to it. Silver also reacts to air, humidity, sunlight and personal grooming products we use on a daily basis.

More info to come soon.