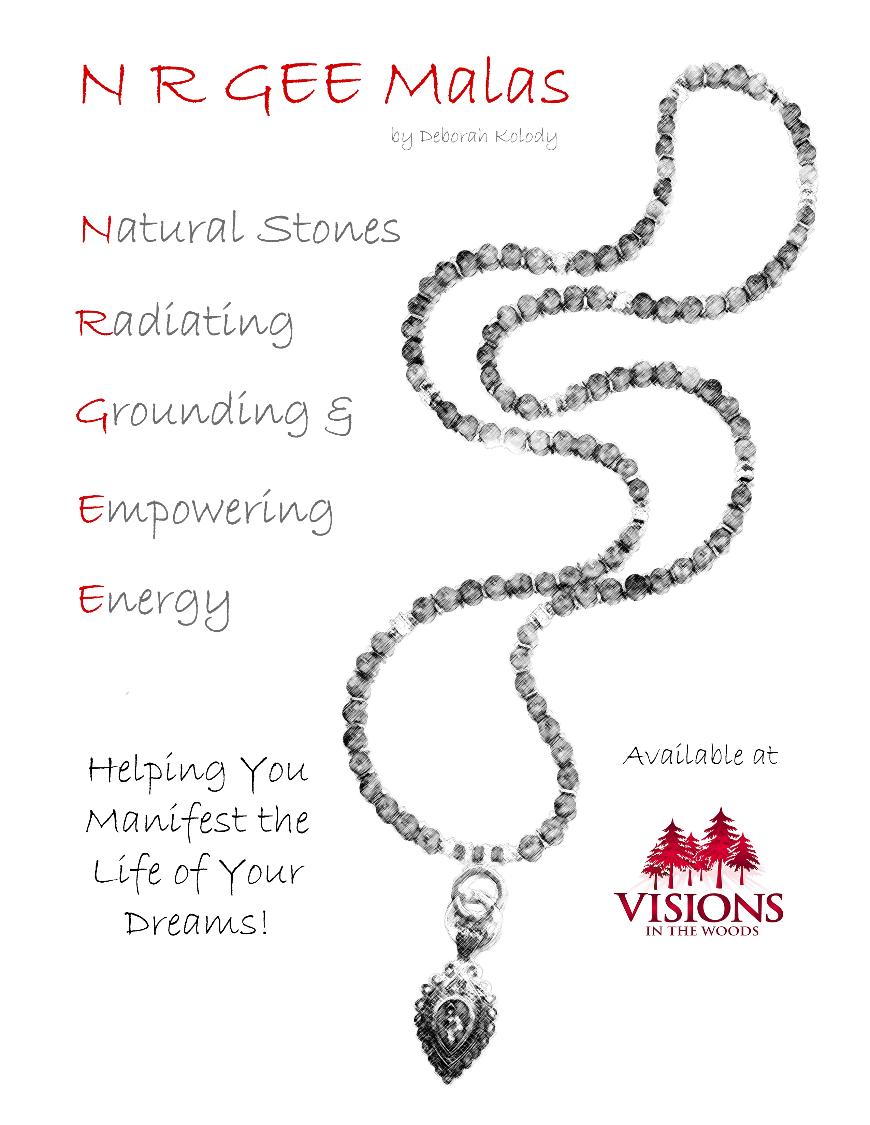 About My N R GEE Mala Designs


I softly launched our N R GEE Necklaces & Malas in November last year and got some amazing feedback! Thank you so much to all involved!I am very grateful to have had such wonderful supportive customers, friends & family!

I have since created a full line of Mala Bracelets & Necklaces and am so excited to share them with you this Holiday season!
Here's what makes them so Incredible...
I have added Hematite & Herkimer Diamonds to every design!
Hematite & Herkimer Diamonds are some of the most spectacular energies to work with for Manifesting, Balancing & Cleansing Our Energy!
You can purchase our Bracelet with or without charms. I am also happy to make custom bracelets to incorporate any of your favorite stones or embellishments.

Here's what else I love about working with Hematite & Herkimer Diamonds
...
HEMATITE

Hematite is among the most effective stones for grounding oneself in the body and the physical world. It can counteract spaciness and confusion, helping us to see practical concerns and move forward with useful action. Hematite can be used to balance the auric field and align the chakras. It pulls stray energies down through the meridian system to the root chakra.

Manifestation is one of the most common problems for spiritually oriented people. Many of us do not realize that it is not enough to travel
to the higher realms and experience expanded awareness. An important aspect to our "Human Experience" is to bring the energies of the etheric realms into manifestation here in the physical plane. Hematite is an ideal tool to assist us in achieving this goal.

"Carrying or wearing Hematite can assist us in bringing our dreams and aspirations into reality and in learning the difference between a true vision and a fantasy." - Robert Simmons (The Book of Stones)
Herkimer Diamonds are the most Powerful of all Quartz Crystals. They have the Ability to not only Transmit their Own Energies, they can also Pick Up and Magnify the Energies of other Stones, Making Your Stones of Choice even Stronger.

They are Incredible Energy Purifiers! Their Clarity Brilliance and High Vibration, Facilitates the Removal of Energy Blocks or Debris and Introduces a High Energy Frequency into Your Aura. Great for any work where Energy is needing to be Released or Purified.
These Incredible Stones are also Programmable, which is why I added them to Our Malas and also created the "Center of Intention"...The Heart of Our Malas. The Epicenter of Power where You Can Focus & Set Your Intentions to Attract All that You Desire in This Lifetime!

Our N R GEE Collection
Each Mala Necklace & Bracelet, are made from Natural Stones & decorative beads with their own energy signature. Each piece is not only a beautiful element of the Earth but also great support for your meditation and prayer practice. All necklaces have 108 stones & beads. All Mala Bracelets have 18, 27 or 54 stones & beads.
I have also designed each strand to easily work with our "Amplifiers" to add a pendant of your choice to create your own original Necklace. This was inspired by traditional malas which generally include a Guru Bead or tassle.Have a peek at "The Anatomy of Our NR GEE Malas" for more details.

I am very excited to share my N R GEE Malas with you,I hope you can come by and experience them for yourself.
Deborah