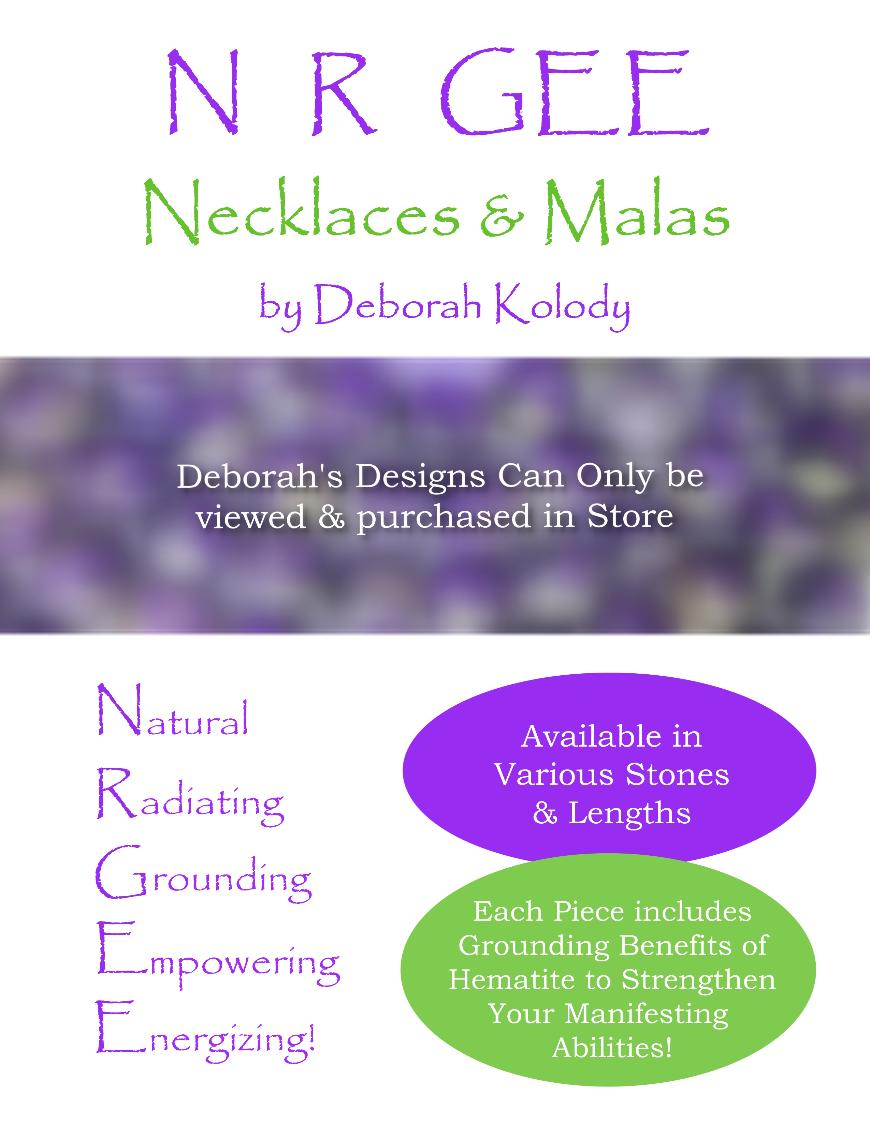 About My Designs


My Inspiration in creating N R GEE Necklaces & Malas came in a few stages. It first started with my desire to create something to help others have meaningful experiences with natural stones and crystals. But where to start when you can go in a million directions?

Grounding my energy has been challenging at times. It wasn't until I was guided to work with Hematite, that I started noticing some significant changes. My energy became less scattered, my thought processes more clear, decision making became easier and I could stick with tasks and see them through to completion. Which believe me, is not always easy for this self-proclaimed butterfly!
A few months in, I also started to notice some other additional benefits. Manifesting some of my desires started to come more quickly and easily. So I got even more curious about what others have experienced with Hematite and turned to "The Book of Stones" to see what Robert Simmons had to say.

Here's what I read...


"Hematite is among the most effective stones for grounding oneself in the body and the physical world. It can counteract spaciness and confusion, helping us to see practical concerns and move forward with useful action. Hematite can be used to balance the auric field and align the chakras. It pulls stray energies down through the meridian system to the root chakra.

Manifestation is one of the most common problems for spiritually oriented people. Many of us do not realize that it is not enough to travel
to the higher realms and experience expanded awareness. An important aspect to our "Human Experience" is to bring the energies of the etheric realms into manifestation here in the physical plane.

Hematite is an ideal tool to assist us in achieving this goal. Carrying or wearing Hematite can assist us in bringing our dreams and aspirations into reality and in learning the difference between a true vision and a fantasy." - Robert Simmons

There it was...my ahhha moment, my message from the Universe. Reading this instantly affirmed for me that this was the direction I wanted to go and decided that Hematite was the stone to assist me further in getting there! The common thread that I would weave through all the Designs I create. The flood gates opened and the direction I was going to go, became crystal clear. (pun intended :)) And back at the beginning of 2017 I was off to the races. Sourcing new stones and materials, playing with different beads and lengths teaching myself how to work them...what fun!

Our N R GEE Collection
Each Necklace or Mala are made from Round Natural Stones with their own energy signature, decorative beads and a well balanced assortment of hematite. This is to assist us in grounding all aspects of our experience, into the reality of our physical lives. Thus ensuring that we have a strong, grounded foundation to work from as we are co-creating and manifesting our dreams and desires.
I have also designed each strand to easily work with our "Connectors" to add a pendant of your choice to create your own original Necklace.
I am very excited to share them with you!

I hope you can come by and experience them for yourself.
Deborah