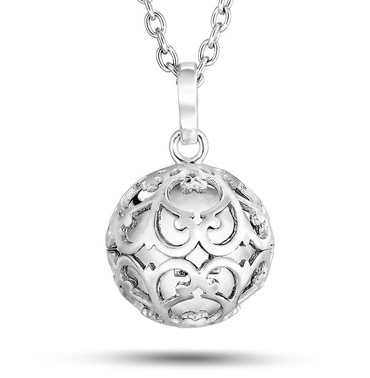 FOR MOTHERS & BABIES

For centuries, across many cultures, the wearing of Harmony Ball Pendants has been an integral part of both pregnancy and early motherhood.

The Harmony Ball's melodic chimes can be heard by the unborn child from about 16 to 20 weeks. These sounds can comfort and soothe the child as well as the mother herself.

During pregnancy the Harmony Ball is usually worn on a long chain in order to enhance the baby's experience. After the baby is born, it is typically worn on a much shortly chain so the baby can play with it.

Harmony Balls have been lovingly passed down as heirlooms from one generation of wemen to the next.

FOR EVERYONE!
Although wearing Harmony Balls has its origins with pregnant & nursing mothers, the soothing experience has gradually been embraced by all women & men.

Their beautiful sounds both represents and evokes calmness, relaxation and harmony between the inner-self and outside world.
A 20-24" chain is ideal length to wear, as it brings the Harmony Ball closest to your Heart Chakra, further enhancing peace and tranquility.

Our Harmony Ball Pendants come in a variety of styles and sounds. All made of Sterling Silver.