Create Healthy Gifts for You & Your Loved Ones
Using Crystals & Essential Oils!

Choose from the Dates Listed

or Book Your Own Private Class!
In Person

Minimum 4 People, Maximum 6 per Class.
Face Masks, Gloves, Shoe Coverings

& Social Distancing are Mandatory
For Your Comfort, You are

welcome to bring a pair of slippers
Online Classes

Minimum 4 People, Maximum 6 per Class.
We will co-ordinate with you, to get you all your
class supplies to use for the online classes.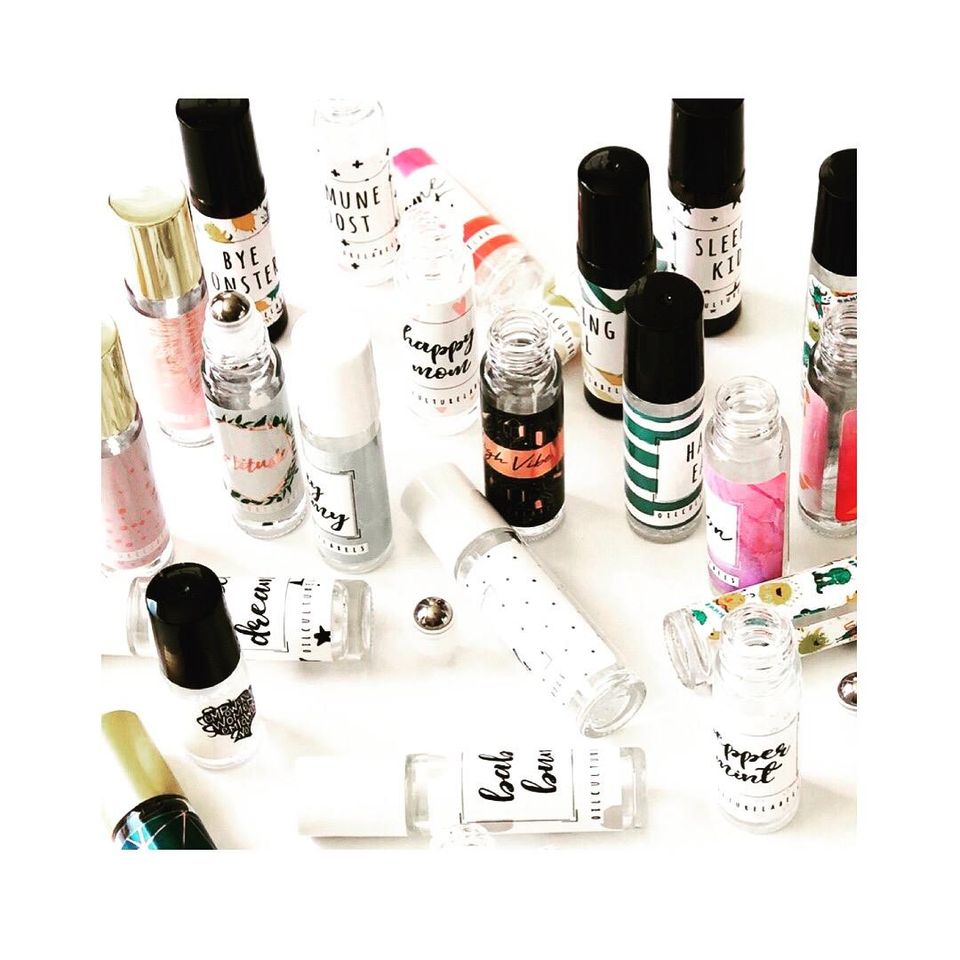 Give Me Strength

Make & Take Class!
When:

You Choose the Date, we'll teach the class!
Class is an hour in length, with an optional 1-2 hours available for shopping.

or Online

Cost:
$20.00 ($60.00 Value)


This class is also available to book for private classes. Minimum 4 people, maximum 6.

This "Give Me Strength!" Class is All About Peace, Energy & Tranquility!

It teaches you essential oil basics and how to make your own Essential Oil and Crystal Blends, for Rollers and Diffusers, that help you stay calm and centered.

We share a variety of tips and blend recipes to not only help you feel calm during the day, but also to be able access additional energy when you need it! Then transitioning into a state of going "Down for the Count" in the evening for a restful sleep.

You will learn about a variety of essential oils and crystals that are power houses of the essential oil and mineral kingdom that are both relaxing and stimulating.
We have packed tons of information and fun into this 1 ½ hour class. There will be treats and opportunities to win FREE Stuff!

Create Three "Give Me Strength!" Roller Bottle Blends:

1. Balance (Peaceful Blend)
2. Energy Crack (Uplifting Blend)
3. Down for the Count (Restful Blend)
Included in Your Make & Take Class Kit:
- "Give Me Strength" Bag for your Rollers
- All Oils & Crystals to make your 3 Rollers
- 3 empty rollers for you to take home

- Labels for Your Rollers
- An Essential Oil Usage Guide
- Blend Recipes for the three rollers & more
- Option to Purchase more rollers for gifts.

- Access to Exclusive Recipe Area of Website
- Coupon for Free Classes in January.
Class Taught By:

Julie Midanik of Natural Wellness

Retired RN & Mother of Three

&

Deborah Kolody owner of Visions in the Woods.

Lover of Crystals, Essential Oils & Nature.